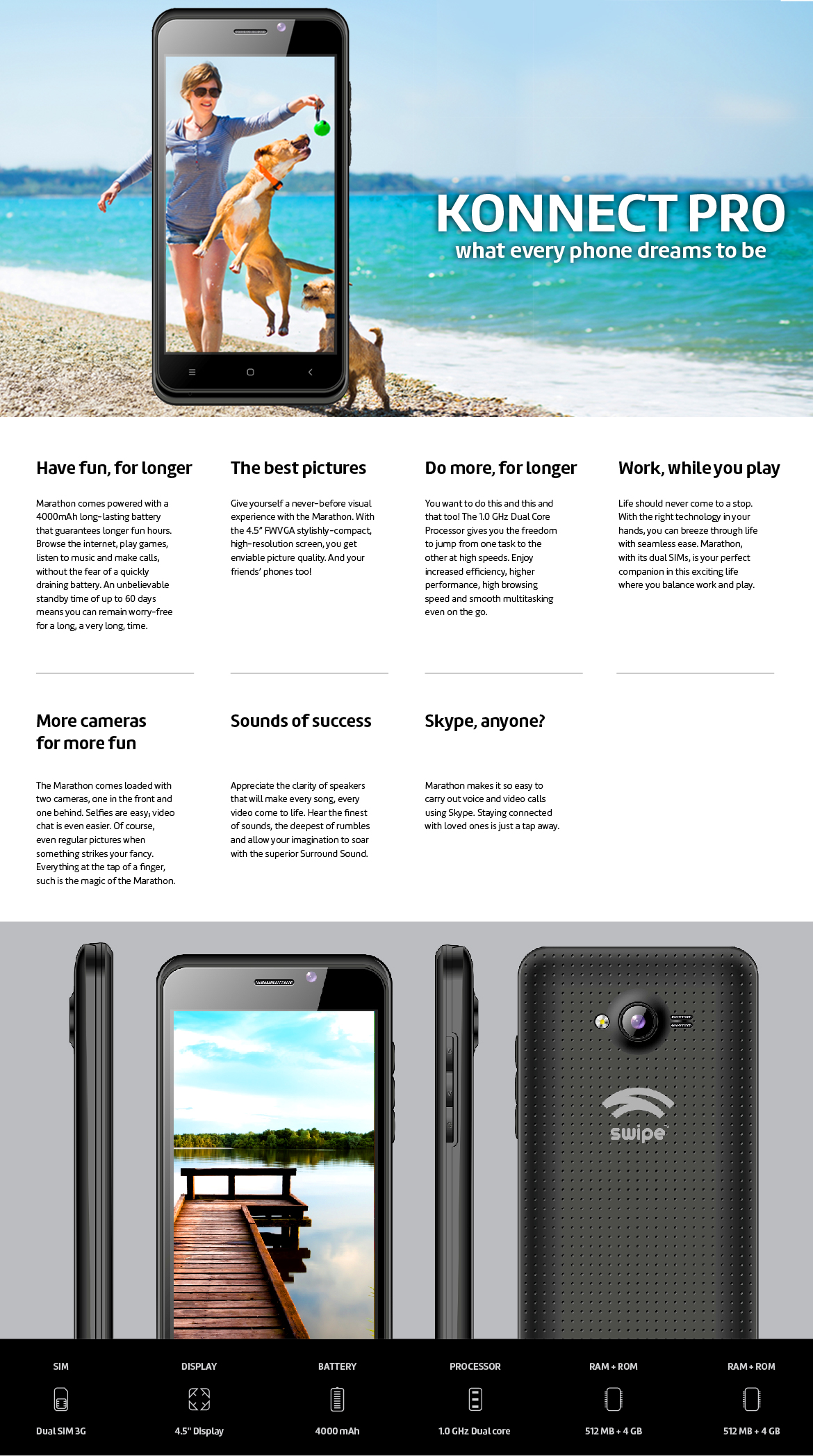 Konnect Pro combines the best features in the best possible price, so you get the best deal in your mobile device.
Seeing is believing
Give yourself a never-before visual experience with the Konnect Pro. With the 4.5" stylishly-compact IPS display, no other device can stand up to this picture quality. And your friends' phones too!
Faster than ever before
You want to do this and this and that too! The 1.3 GHz Quad Core Processor gives you the freedom to jump from one task to the other at high speeds. Enjoy increased efficiency, higher performance, high browsing speed and smooth multitasking even on the go.
The magic of more memories
The Konnect Pro comes loaded with two cameras, one in the front and one behind. Selfies are easy; video chat is even easier. Of course, even regular pictures when something strikes your fancy. Everything at the tap of a finger, such is the magic of the Konnect Pro.
Work more; play even more
Life should never come to a stop. With the right technology in your hands, you can breeze through life with seamless ease. Konnect Pro, with its dual SIMs, is your perfect companion in this exciting life where you balance work and play.
Convenience in your hands
Technology is smart, and getting smarter every day. Konnect Pro works on an Intelligent Technology that lets you use a different touch to send different instructions to your phone. With just one gesture, you can direct your device to launch individual apps, to open files or to play music. You can even set personalised commands.
More means less
Enhanced Memory Management in your Konnect Pro means your device will outperform any in the market today. Expect better and longer usability, no sluggishness, quick transfer of data and switching between apps.
Power in your hands
Konnect Pro comes powered with a 2450mAh battery that guarantees longer fun hours. Browse the internet, play games, listen to music and make calls, without the fear of a quickly draining battery. A standby time of up to 45 days means you can remain worry-free for a very long time.
- Full Specification
PROCESSOR
1.3 GHz Quad Core
CAMERA
Front : 2 MP
Rear : 5 MP
MULTIMEDIA
FM, Video player, Audio Player Sound Recorder
CONNECTIVITY
Bluetooth, Wifi
DIMENSIONS
66.7(w) x 10.6 (D) x 134.6 (H) mm
WARRANTY
Device : 1 year
Accessories : 6 months