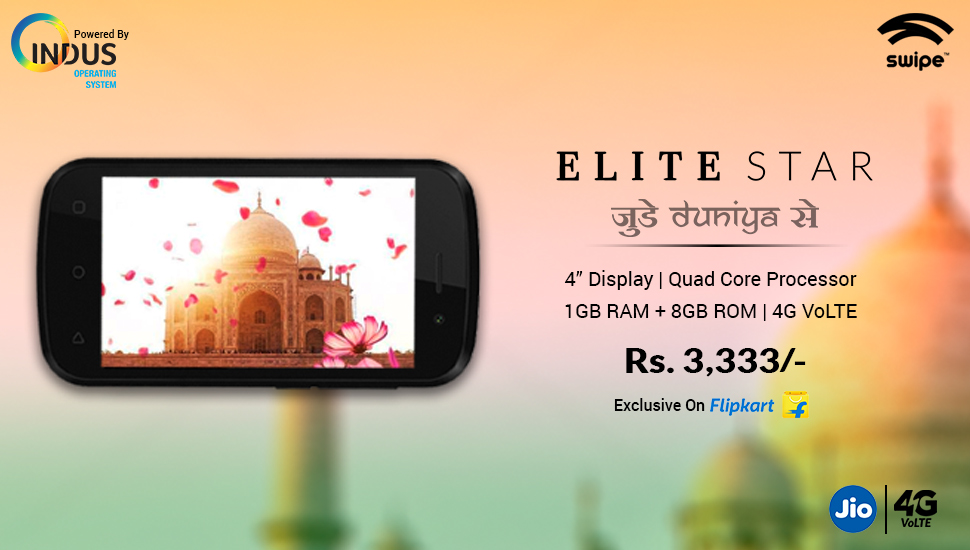 Swipe's Elite Star Connects India and Indians in 12 regional languages with 4G VoLTE launching exclusively on Flipkart for Rs. 3,333/-
Elite Star – JudeinDuniya Se is a perfect combination of elegant design & superfast connectivity powered by Indus OS
India, 12th December 2016:
The wait for the country's most versatile and affordable smartphone comes to an end with launch of the newest member in Swipe Technologies' celebrated Elite series. The latest offering from the house of Swipe, Elite Star – JudeinDuniyaSe is a perfect combination of elegant design, superfast connectivity, ease of operation and is available at an affordable price of Rs. 3,333/- exclusively on Flipkart. Elite Star has been built to connect India and Indians in 12 regional languages, powered by Android Marshmallow 6.0 and the revolutionary Indus OS –World's First Regional Operating System.
The smartphone ecosystem in English and support for 12 regional Indian languages is accentuated by two key features: Transliterate and Translate through the Indus Swipe. Swipe left to Transliterate (write using the closest corresponding letters of a different alphabet or language) and Swipe right to Translate.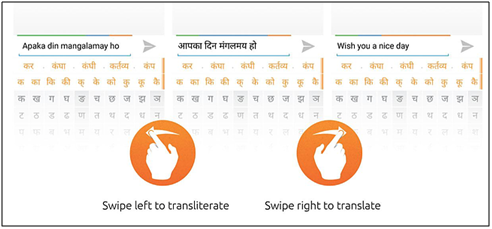 And what good are any of these features if they are not on 4G speed. The lightning fast 4G VoLTE-enabled Elite Star is aesthetically designed with a sleek eye-pleasing4"screen display. Its ergonomically-enhanced design gives this iconic smartphone a cool look and great feel in the hands of the user. To enjoy flawless multitasking with faster results, the device is powered by a 1.5 GHz Quad-Core processor, and its 1GB RAM is good enough to give a smooth computing experience. The phone is armed with multiple connectivity options – in terms of connectivity bands, it has 4G band.

• Word Prediction
• Matra Prediction
• Helps user find words /matras before completing typing
The Elite Star promises a great multimedia experience. The user can capture sizzling photos and videos in virtually any lighting condition through its 5-MP Rear Camera. Its 1.3 MP Front Camera ensures great Selfies to share on various Social Media platforms. The Elite Star comes with an internal memory of 8 GB, which is expandable up to 32 GB for the user to store a good number of pictures, videos, music, document and more. The new phone gives long company to the user with its 2000 mAh battery, which is installed keeping in mind the daily lifestyles of targeted users.
Founder and CEO of Swipe Technologies, Mr. Shripal Gandhisaid: "In today's interconnected India, more and more Indians are using transliteration and translation on their mobile phones. Be it for scientific, medical, technological, commercial, legal, cultural or literary purposes, today's communication in India heavily depends on transliteration and translation. Taking cue from these trends, Swipe has developed a powerful smartphone that is sleek, agile, superfast, cool, functional and affordable too. As a leader in the smartphones space, we believe that it is incumbent on Swipe to offer superior products to our customers' every time. To ensure maximum traction with our target audience, we are launching the Elite Star exclusively on Flipkart. We've had a mutually beneficial association with Flipkart, having launched a number of our products exclusively on India's largest e-commerce platform."
The Indus OS is based on Marshmallow 6.0 and it comes with a database of 200,000+ wordsin 12 regional languages. With more than 10 patents to its credit, Indus OS offers an OS-integrated text-to-speech facility and it also provides Word and Matra prediction for faster and smarter typing. The Indus OS also allows the users to use hybrid keyboard wherein they can type in regional language using English keyboard.
Swipe ELITE STAR – Specifications
4GVoLTE Compatible with: 2G/3G/4G Indus OS + Marshmallow 6.0
Processor: 1.5 GHz Quad-Core processor
Display: 4" WVGA
Battery: 2000 mAh
Camera: Front-facing – 1.30MP and Rear-facing – 5.0MP
RAM: 1GB
ROM: 8GB
Rajesh Deshmukh, CEO of Indus OS said "The future of technology lies in the breakdown of barriers, be it language or accessibility, which will allow erstwhile socially isolated economies to flourish. The remarkable growth of the smartphone and with the easy availability of affordable 4G technologies, we at Indus OS are proud to have taken the first step towards this future, with our Made in India OS. Our ecosystem is made keeping in mind the real needs of the people of India, which has taken us to the #2 position in the country by market share. Our collaboration with Swipe will help us expand our India reach, and we share Swipe's vision of providing a user friendly and engaging platform to customers, in the language of their choosing."
The new smartphone is slated for a grand launch exclusively on Flipkart on 12th December 2016.
Link: https://www.flipkart.com/mobiles/~swipe-elite-star/pr?sid=tyy,4io
About Swipe Technologies:
Swipe Technologies is an innovation-centric mobility solutions company, having started its operations in July 2012. Within a short span of time, Swipe has become the leading tablet and Smartphone maker in India. Swipe was started with an aim to bring exciting devices in the growing Indian market and today, it is the leading consumer brand with key innovations across products, pricing and customer support. Founded by technocrat Mr.Shripal Gandhi, Swipe raised $5 million in May 2014 from the Venture Capital firm Kalaari Capital. In the last three years, Swipe has won a number of accolades including the "Top 50 Inspiring Entrepreneurs of India" by The Economic Times, the "Most Innovation-driven Company in India" by World Brand Congress, and the "Most Innovative Start-up" by Franchise India, the "Best Integrated Campaign" by the World Brand and Congress& the "Best Youth Brand Tablet" by CNBC. Also, Swipe's young founder Mr. Shripal Gandhi has been recognized as the "CNBC Young Turks" for his breakthrough strategies and innovation in the field of mobile communication technologies.