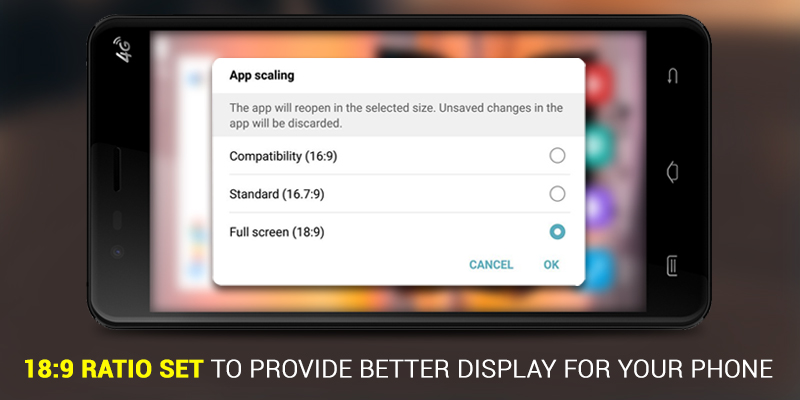 18:9 Ratio Set To Provide Better Display For Your Phone
Today various smartphones are ditching the 16:9 ratio for display and going for 18:9 ratio. The new display has clarity in view and users are expecting many benefits. In this article, we will explore the possible benefits of the new aspect ratio.
This Aspect Ratio has been designed to find a compromise between prevalent aspect ratios like television (typically 16:9) and movie theatres (typically a wider 2.20:1).
What is Aspect Ratio?
The relationship between the height and width of a rectangular display is called Aspect Ratio. Different devices have different aspect ratios.
Benefits of 18:9 Ratio:
Better pixels:
As the size of smartphone with 18:9 aspect ratio is taller, the resolution of this phone is 2,880 x 1,440 pixels that ensures better picture quality. The bezels are narrow.
Better experience regarding videos, app use, and other content:
18:9 aspect ratio is similar to a fledgling film format that attempts to unify the various standards used in television and cinematography. Videos that have been formatted in this aspect ratio will offer better picture quality than videos with 16:9 ratio. On the other hand, playing a video formatted in 16:9 aspect ratio will result in black bars on the sides of the screen to fill out space.

Not just video apps, most of the apps can easily adapt to 18:9 format. This is because Android apps are built to scale gracefully across a variety of display sizes and formats. That is why some phones offer "App scaling" feature that allows users to select the format as per their choice. This avoids the issues that apps not compatible with 18:9 aspect ratio can run into.

Users can switch screen between Compatibility (16:9), Standard (16.7:9) and Full Screen (18:9) with a swipe down from the top of the screen. With tall screen, scrolling to read a web-page content is less and easy.

Dual display function:
Dual display function shows two perfect square windows next to each other when the handset is held horizontally. Extra space improves the split-screen multitasking and smartphone companies are offering some extra functions while in FullVision display mode which offered in Android mobile UX (Version 6).

Apps optimized for handset take full advantage of the dual display function. For example, opening the calendar app, a user can see dates on the left and event details on the right. The camera app places Instagram-style, 1:1 square photos on one side of the screen and allows a user to review those that have been already clicked on the other.

"Food Mode" in the camera app can add high color quality and saturation every time user clicks the pictures of a meal and posts it on social media platforms. This mode also allows the GIF creation by combining 2 to 100 pictures in a loop.
Which of these benefits of 18:9 Aspect Ratio intrigue you most? What are your expectations with 18:9 display? Post your comments.
To discuss other emerging trends on technology, join our LinkedIn group.