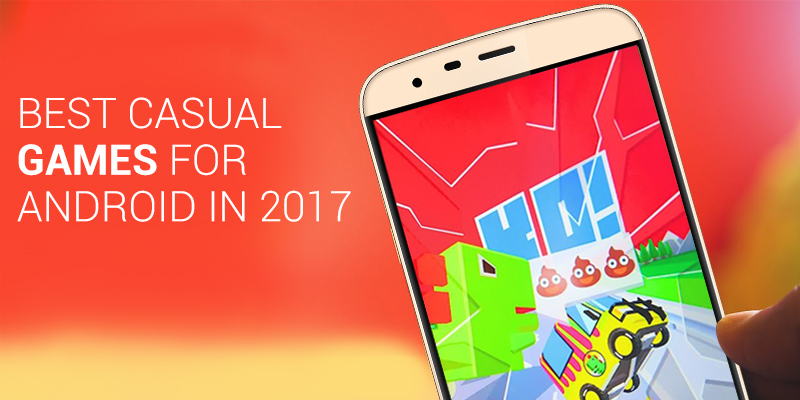 Best Casual Games For Android In 2017
Years ago, as technology evolved, first came Radio. Then came TV, followed by advanced music players, calculators, video cameras, video games, hand-held cellular phones, computers and computer games. After that, came smartphones that could be used as radio sets, music players, calculators, computers and computer games.
With craze for smartphones being used for e-mails, social media, movie and video streaming, music and various other activities due to different apps increasing, the craze for playing games on smartphones is also increasing.
As far as mobile entertainment is concerned, game downloads still remain most popular among forms of entertainment. So we take a look at some cool casual games for Android.
Clash of Clans:

This game started becoming viral in 2016 and even now, the buzz around this game is still strong. The Android version of this game released in 2013 as free game with many in-app purchases.

While playing this game, player needs to build a community (clan), train troops, and attack other players to earn elixir, Dark Elixir and gold.

Big Hunter:

If you love jungle themed games, here is your chance to play Tarzan. Set in a tribal environment, Big Hunter features awesome 2D graphics.

Clean User Interface (UI) and close adherence to material design make it fun to hunt down animals like Mammoth and Rhinos. It is available for free download and players can play the ad-free version by paying a fee.

Fast Like A Fox:

This game makes best use of geometric vector based graphics which are splendid. Based in a forest, setting this game requires player to control a fox, making it jump and feeding it while still making sure that fox does not fall down into the pits.

Remembering Mario? Jumping over pits will remind you of Mario but this game is different. Faster the player taps on phone, faster the fox will run. This game is available for free download.

Cut The Rope – Time Travel:

Released in 2012, Cut The Rope game featured a candy-loving monster named Omonom. Attractive 2D Graphics are a visual treat and easy controls make this game fun. Same can be said about the new version featuring Time Travel.

In previous game, using the available tools, player needed to find tools to feed candy to Omnom. In the latest version, using same controls, user needs to place Omnom into the historic time where he would be accompanied by his ancestors.

Feeding two monsters makes this game trickier. Player gets to explore six time periods in this game. The graphics in latest game are better than the graphics of prequel.

The Room:

This game is so thrilling and time consuming that it may take hours to complete one level. Player starts this game by entering a room and try to open a locked safe in that room. Be ready to find what is in the safe.

Which are your favorite game on your Android phones and why? Tell us.

To discuss more Android games and apps with us, join our LinkedIn page.