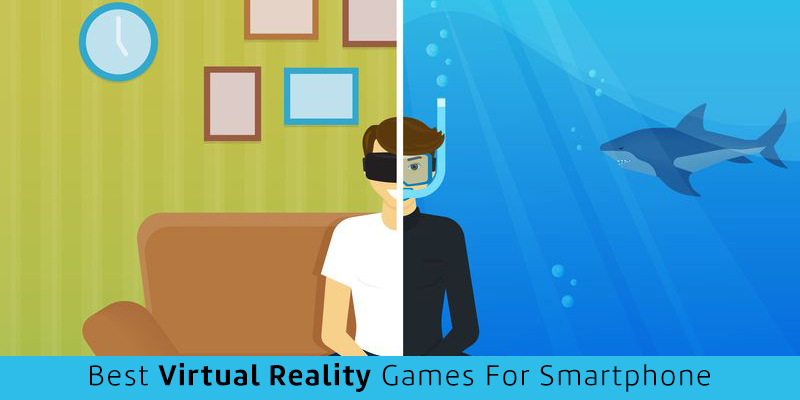 Best Virtual Reality Games For Smartphone
Virtual Reality (VR) is an avenue of entertainment that is popular and right now, there are few game makers entering this area with games. But exciting games are arriving. With powerful VR headsets, consumers have a lot of options regarding gaming choices to choose from.
Let us have a look at popular VR games for mobile:
Hidden Temple VR Adventure:
Although Hidden Temple Adventure includes the phrase "Hidden Temple," it has NO RELATION to Nickelodeon's classic Legends of the Hidden Temple game show. But this is an entertaining game.

In this exciting treasure hunt game, you search for riches. At the same time, you have to escape the temple before it becomes your tomb. To enjoy graphics, you can explore the corridors of the temple at full 360° view.

This game offers a point-and-click experience in virtual reality. Not just beautifully-rendered visuals and immersive gameplay, it also features Indiana Jones aesthetics in logo as well as atmosphere.

Sisters:
This is a horror VR game and weak hearted people should stay away from this game due to its similarities with Resident Evil but without archaic fixed camera angles. A creepy but fun-filled game, Sisters has tons of action, excitement and dangers to offer.

Designed specifically for mobile VR, this game has simple look-based controls that allow users for easy pick up and play. VR would make you feel as if you are actually in the setting of the game. The game environment understands and responds to what you are looking at.

Battle Z VR:
This is a zombie shooting game multiplayer game. You are a part of a team fighting against zombie horde. Your team members might turn their backs on you for bonus powers. The artwork is nice and gameplay is frenetic but entertaining.

To fully enjoy this game, you need a Virtual Reality Viewer and a motion-tracking controller.

Twilight Pioneers:
This game is must have for those who love Action Role-Playing Games (ARPGs). This game has unique gameplay with a mix of boss battles, narrative and more. VR makes this game lively and this game is available for free download.
Entering a grim world, overrun by the imaginatively-named Dark Lord, you will team up with another warrior to fight monsters and defeat your enemy.
Need for Speed No Limits VR:
Billed as the priciest VR mobile game, it is a game you must be familiar with as it hails from Need for Speed franchise. The stunning graphics ensure a visual treat and exciting gaming experience.
Just fasten your seatbelts and enjoy the game.
Which of these VR games are you interested in playing? Post your comments.
To discuss VR and its aspects, do join our LinkedIn page.