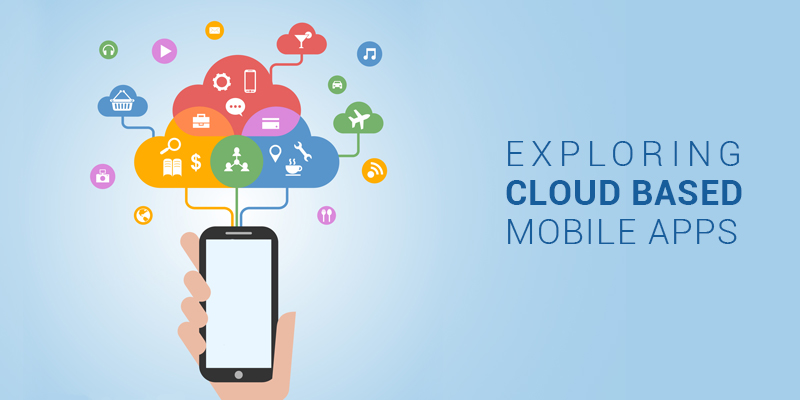 Exploring Cloud Based Mobile Apps
Mobile trends change time to time. For users, same logic applies to trending mobile apps. Their efficiency and effectiveness keeps them trending among users.
For developers, it is the technology that trends and they conduct their app development experiments with trending technology. As a result of liberalization, today there are apps that showcase different kinds of budding technologies.
One such buddy technology is "Cloud Based Mobile Apps".
The Next Big Thing
This technology is trending and appears to emerge as the next big thing. This technology addresses the concern regarding data storage. Hence, the popularity of the cloud based apps is growing rapidly.
With people becoming more and more dependent on mobile, it is clear that mobile app development is necessary today more than ever. Using cloud in app development takes the procedure to the next level.
Why Mobile App Development for the Cloud?
Today, corporate growth strategy in any organization depends on mobility. With technology landscape rapidly changing and technologies becoming obsolete in short time, it is not easy to be an entrepreneur in technology industry unless one can keep abreast of all latest trends and demands among consumers.
There is always a requirement for best technological utilization that offers intriguing features to users using the apps.
Due to following reasons, Cloud based apps have emerged as a de facto solution for the application development concerns.
Cost Reduction: Cloud based apps diminish the operational cost as they eliminate Application Programming Interface (APIs), back-end servers, as well as maintenance costs.
Customer Retention: Cloud based apps retain customers due to convenience and speed they offer. All information can be at the fingertips of customers. Cloud based apps also offer customers, reasons to accept new apps.
Harnessing Cloud Computing
Harnessing cloud computing can open a number of avenues for technology innovations. The list of such benefits includes:
Powerful security features.
Access to a wide-range of back-end features.
Easy implementation of updates.
Users can gain easy access to apps without depending on other resources.
Role of Cloud Computing in app development gaining popularity
With new developments in cloud computing, cloud based mobile apps are coming out with excellent features. Organizations can leverage effective solutions to the clients via cloud enriched mobile apps.
Cloud embedded technologies ensure access to a more secure, feature-rich, dynamic-in-nature apps.
Thanks to infrastructure offered by cloud for mobile app development, mobile apps in cloud offer better security features and more storage. Also, with cloud, companies can focus on their app's value without worrying about owning a server system.
Mobile apps in cloud have been helpful to developers. Interests of tech giants like Google and Microsoft as well as retail giants Amazon proves that cloud computing will have a positive impact on app development in the coming days, resulting in a progressive change.
What is your opinion about the role of cloud computing in Mobile Development? Share with us in comments.
To know more about mobile development and cloud computing and discuss the same, join our LinkedIn page.