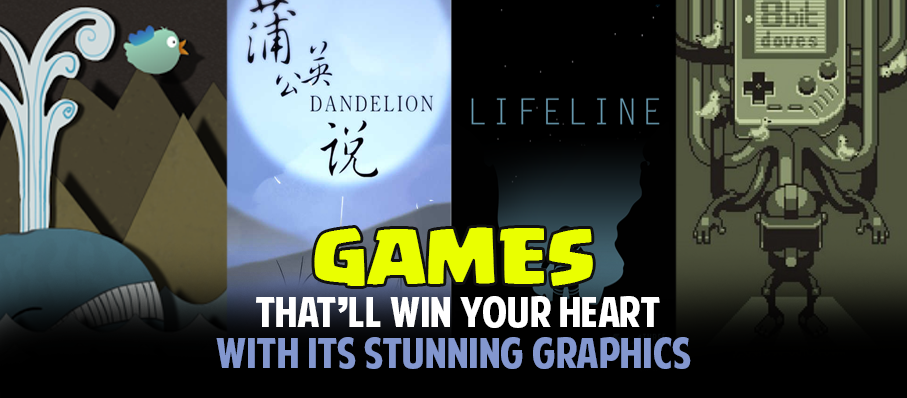 Games That'll Win Your Heart With Its Stunning Graphics
Enjoy these games in the Swipe Elite Plus Full HD smartphone – Available on Flipkart
For some of us a game with crude graphics but awesome plot or gameplay is good in our books. For others, graphics is a vital aspect of games, even if it is "just" a mobile app game. Some of them are incredibly complex and mind boggling, while some have very simple gameplay but feature incredibly beautiful visuals. There's bound to be something here for the artistic person in you.
Dandelion: Dandelion is a relaxing puzzle game by Jiadi Deng. You swipe to spread the dandelion seeds to a new area and make them bloom there.
 A Bird's Journey: A Bird's Journey by Salad Gamer / Yannick Gerometta features adorable paper cutout backgrounds, muted colors, and relaxing background music. You guide the bird's flight by taps, keeping an eye on the health bar and obstacles as you do so.
8bit Doves: Here's something for the retro gamers and nostalgia lovers –8bit Doves by Nitrome Arcade is a game which is highly reminiscent of old classics that were available on the GameBoy.
Lost Journey: In this puzzle-platformer by DreamSky, you play as Jennifer, a little girl in a red coat. A little white butterfly guides you through snowy landscapes, where you have to jump over spikes and other obstacles, gathering memory shards and finding portals.
Lifeline: Interactive fiction, such as visual novels, has slowly found its way to mobile phones. Lifeline by 3 Minute Games LLC is an innovative game for its genre – rather than being a game that last for hours (and hours), it sets the pace for the player.