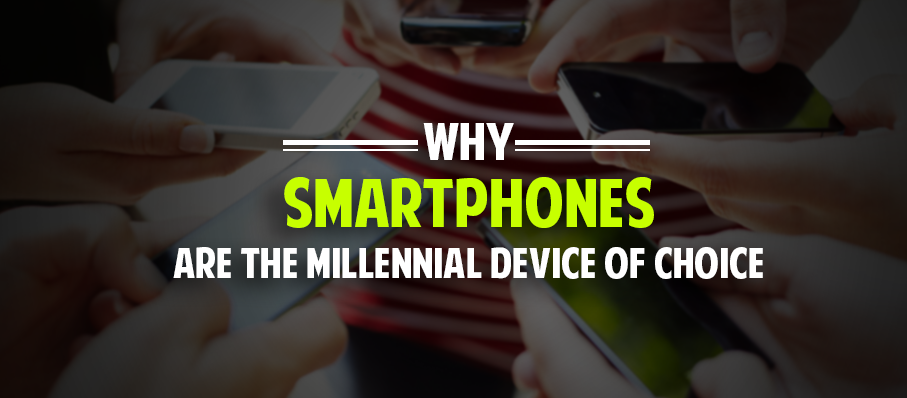 Why Smartphones Are the Millennial Device of Choice
Otherwise known as Generation Y, they encompass anyone born between the early 1980s and early 2000s. As the largest population to date they're often lumped into one generation cohort, but it's important to understand that Millennials are individuals possessing their own unique values, interests, personalities, experiences, behaviors, and, well, the list goes on and on.
Yet there's one commonality within this diverse generation. They've grown up in a technology-driven world and, as such, have extremely high expectations of technology. The user experience needs to be interactive, highly efficient, and provide instant results. And what technology provides this for millennials more than the smartphone? It's become their device of choice.
Here are 6 reasons why smartphones have become the millennial device of choice.
It's a Portable TV
Imagine your morning commute to work involves a 30-minute bus ride. How are you going to pass the time? If you're under 25 then you've probably streamed a video on your smartphone
It's More than Just a Camera
the camera can be used for more than taking artistic pictures or selfies for Instagram.
It's the First (and Only) Stop for Social Media
When a millennial wants to engage online, they're more likely to reach for their smartphone than fire up their desktop. In fact, half of the users on the world's largest social network, Facebook, are mobile-only.There are already companies recognizing this trend in how consumers engage with social media. For instance, Instagram, Uber, and Snapchat essentially offer mobile-only platforms while their desktop sites offer very limited functionality.
It's a Growing Tool in M-Commerce
The online purchasing power of millennials is staggering and it's only going to grow as marketers learn how millennials prefer to shop on a mobile device. They're also more likely to abandon the online shopping experience if they cannot find an immediate answer.
It's Still Used as a Phone
As you move millennials in and out of the purchase funnel, remember that they want real-people connections. More searches are now conducted on mobile devices/
It's Now a Digital Assistant
Picture yourself on the go. You're running errands on a hot summer day and you instantly start craving an iced coffee, but you have no idea where the closest coffee shop is located. You may ask a passerby, but you'll probably whip out your phone to search for coffee shops near you. If you're a millennial then you're more likely to use voice search and ask Siri or Google Answers. Especially when they're multitasking or in a hurry.