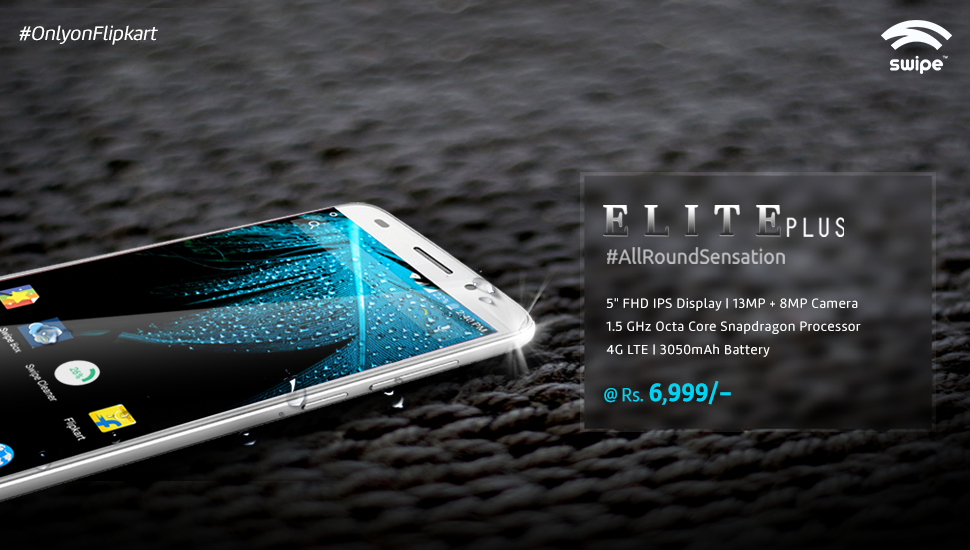 Swipe disrupts affordable smartphone segment in India by launching 5" FHD smartphone with Qualcomm Snapdragon Octacore Processor at 6999/- exclusively on Flipkart
Simple, sophisticated and lightweight, Elite Plus offers superior user experience with 5" FHD Display fueled by Qualcomm Snapdragon processor and a powerful 3050 mAh battery
India, 2nd June 2016: Swipe Technologies, India's leading mobile internet company, is all-set to bring to you a smartphone experience that will set a market disruption in the category. Following months of anticipation, Swipe will be soon launching Elite Plus, a combination of aesthetics and power that brings an unmatched experience of craftsmanship without putting a dent in pockets. The latest offering from Swipe comes with an ergonomic arc design, premium builds quality, powerful processor, and a really long-lasting battery.
Launching the new smartphone, Mr. Shripal Gandhi, and Founder& CEO of Swipe Technologies, said "As a leading player in the smartphones space, it is our responsibility to offer better products to our customers every time. We continuously seek feedback from the mobile phone users on their desired features and incorporate them into our new offerings. Thus, after the huge success of our pervious launch Elite Note, we are now presenting Elite Plus, which incorporates new improved hardware and software features and is much lighter in weight at 131gms – lowest among the competing brands with such loaded features.A marvel of craftsmanship and technology combines the beauty of Elite Plus.Our products are designed keeping in mind the expectations of Indian youth who is demanding better experience from smartphones in terms of better hardware as well as software. Elite Plus is priced competitively to offer this superior experience to the aspiring youth of the country."
What gives Elite Plus its wings is its incredible power. With Qualcomm Snapdragon™ 64-Bit 615Octa-Core processor,Elite Plus is equipped to handle all demanding tasks while giving the best 3D gaming experience on a Smartphone. A 2GB RAM powers Elite Plus to handle multi-tasking without breaking a sweat. A 3050 mAh marathon battery powers the Elite Plus for more than one full day's use. Recognizing that a premium device must be compatible with high-speed connectivity standards, designers of Elite Plus have ensured supports 2G/3G/4G LTE/ EVDO/CDMA standards at breathtaking speeds, helping users make the most of their time.
Elite Plus scores a plus with cameras. With its 13MP rear camera and 8MP front camera, an Elite Plus user can take high-resolution selfies and all other photos without compromising on details. For music lovers, Elite Plus offers the new edition of speakers that offers superior acoustics, with a dedicated amplifier for each speaker to deliver audio quality unprecedented from a smartphone.
It sports a Full High Definition (FHD) 5" 1920×1080 IPS Display and the energy-efficient screen that gives 40% more colors than a normal LCD screen for brilliant graphics and gaming even under direct sunlight. It has a highly-intuitive control layout as part of the new Ergonomic Arc design. The new phone comes with Premium Jacquard Polycarbonate body with the thin metal frame that is ergonomically tapered to effortlessly fit in your grip.
Despite being packed with superior features, the stunningly beautiful lightweight and powerful new Swipe Elite Plus comes at the attractive price point. A price tag of INR 6999/- makes Elite Plus an object of desire that is truly affordable for the aspiring youth. Swipe's new offering will be available exclusively from Flipkart.com from 6th June onwards.
The growth in the Internet base in India has been exponential and rising penetration of smartphones is fueling this growth. According to a recent Boston Consultancy Group (BCG)report, INDIA@DIGITAL.BHARAT, it took 20 years from the introduction of the Internet to reach 100 million users. The second 200 million will likely be reached within three years, and a third in less than a year. In fact, the next four years will see nearly 350 million additional Internet users. The primary drivers of this exponential growth have been the expansion to small towns / rural India, increased affordability due to lower-cost data-enabled smartphones and the ever-increasing awareness of, and need for, the Internet. "It has been an endeavor of Swipe to offer lower-cost feature-rich to the aspiring youth from tier-2 and tier-3 towns, thus contributing to true digitalization of India," says Mr. Gandhi.
Mr. Ajay Yadav, VP – Smartphones, Flipkart, said "We are delighted to announce Flipkart's exclusive association with Swipe to launch its latest offering Elite Plus. We have received overwhelming response – especially from tier 2 and tier 3 towns – for all Swipe products that we have sold in the past. With its enriched features and attractive price tag, we expect the great response for this flagship device from Swipe."
About Swipe Technologies:
Swipe Technologies is an innovation-centric mobility solutions company, having started its operations in July 2012. Within a short span of time, Swipe has become the leading tablet and Smartphone maker in India. Swipe was started with an aim to bring exciting devices in the growing Indian market and today, it is the leading consumer brand with key innovations across products, pricing, and customer support.
Founded by technocrat Mr. Shripal Gandhi, Swipe raised $5 million in May 2014 from the Venture Capital firm Kalaari Capital. In the last three years, Swipe has won a number of accolades including the "Top 50 Inspiring Entrepreneurs of India" by The Economic Times, the "Most Innovation-driven Company in India" by World Brand Congress, the "Most Innovative Start-up" by Franchise India, the "Best Integrated Campaign" by the World Brand Congress& the "Best Youth Brand Tablet" by CNBC. Also, Swipe's young founder Mr. Shripal Gandhi has been recognized as the "CNBC Young Turks" for his breakthrough strategies and innovation in the field of mobile communication technologies. For details, logon to www.justswipe.com
Keep in touch: Catch up on the latest offers, news & events
Swipe ELITE PLUS – Specifications
Display: 5" Full High Definition (FHD), 1920 X 1080 IPS display and energy-efficient screen
Processor: Qualcomm Snapdragon™615 processor with 64-Bit Octa-Core
Camera: Front-Facing – 8.0MP and Rear Facing – 13.0MP
Battery: Li-ion Battery 3050 mAh, OTG Support
RAM: 2GB ROM: Built-in 16GB Memory
Memory: Expandable upto 64GB and 100 GB of cloud storage through SwipeBox
Compatible with:2G/3G/4G LTE/ EVDO/CDMA standards
Glass: Scratch Proof Dragontrail
USPs:
Ergonomic Arc Design
Premium Jaquard Polycarbonate body with thin metal frame
Extremely lightweight – 131gm with 78% screen-to-body ratio
40% more colors than normal LCD screen
High End Qualcomm Snapdragon 64 bit OctaCore Processor
For more information, please contact:
Suman Sharma, Metigon Enterprises, +91 8600113106, Email – suman.sharma@metigon.com