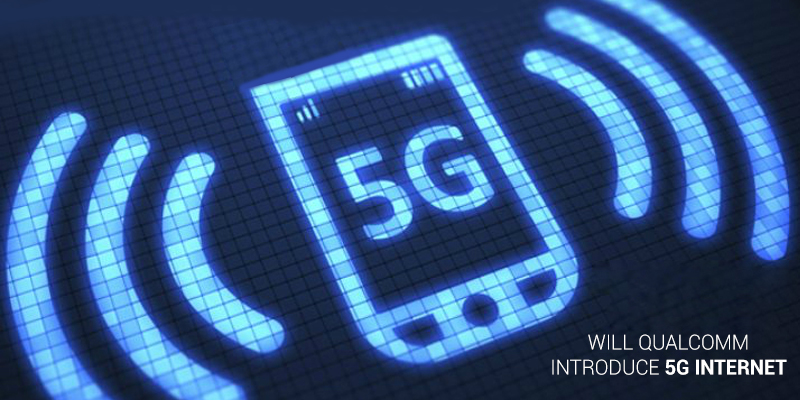 Will Qualcomm Introduce 5G Internet?
As per an announcement, Snapdragon X50 5G New Radio (NR) mobile modem chipset, manufactured by Qualcomm Technologies, will arrive with 5G data connection. It is expected to attain gigabit speeds across the 28GHz millimetre-wave (mmWave) frequency band.
The trial of this chipset was conducted at the San Diego lab of Qualcomm where several 100MHz carriers were used. Other things that were used in trials included SDR051 mmWave RF transceiver Integrated Circuit (IC); UXM 5G Wireless Test Platform; and Keysight Technologies' 5G Protocol R&D Toolset.
Tests indicated new horizon of progress in the world of internet
Qualcomm says that the test was also limited to the "power and form factor constraints of a smartphone". Attending the 4G/5G conference, Cristiano Amon, the President of Qualcomm Technologies said:
"This major milestone and our 5G smartphone reference design showcase how Qualcomm Technologies is driving 5G NR in mobile devices to enhance mobile broadband experiences for consumers around the world!"
Snapdragon X50 has been dubbed as the world's first commercial 5G modem chipset solution. The modems in Snapdragon X50 family are to be made commercially available during the first half of 2019.
What can Snapdragon X50 do?
Snapdragon X50 has been designed to enable field trials and early deployments of 5G networks globally. It would allow download speeds of around 5Gbps and supporting operation in the mmWave spectrum at the 28GHz band.
It is also expected to feature Multiple-Input Multiple-Output (MIMO) technology, along with 800MHz bandwidth, adaptive beam-forming, and beam-tracking technologies.
Other important ingredients of Snapdragon X50
Snapdragon X50 also includes the modem, PMX50 power management chip and SDR051 mmWave transceivers. The modem can be used for 4G and 5G mobile broadband. Many fixed-wireless broadband devices are compatible with Qualcomm Snapdragon platform and its gigabit-speed 4G modem.
Amon said:
"The Snapdragon X50 5G modem heralds the arrival of 5G as operators and OEMs reach the cellular network and device testing phase."
Future of 5G Internet
Earlier Qualcomm had predicted that 5G smartphones will be available by 2019 instead of 2020 (predicted earlier) for commercial sales. This is because of increasing demands from the consumer and business segments. 5G technology expansion is expected to create up to 22 million jobs and produce around $12 trillion worth of goods and services by 2035.
Assuring the availability of 5G devices in 2019, Qualcomm CEO Steven Mollenkopf said that several network operators in USA, South Korea and Japan were preparing for 5G launch in 2019. Mollenkopf added that they would likely be joined by Chinese carriers as well.
Future Preparations for 5G Internet
Qualcomm is also working to assist 3GPP in order to develop 5G standards. Research on designing sub-6GHz and mmWave NR prototype solutions and IC products is also being done.
In order to conduct over-the-air trials with carriers and vendors worldwide, Qualcomm has partnered with Telstra and Ericsson to conduct 5G NR testing during the second half of 2017. European carrier Vodafone and Japanese telecommunications provider NTT DoCoMo are using Qualcomm's prototype devices and Ericsson's prototype base station solutions. Trials regarding 5G interoperability are also being conducted.
For the trial, mmWave spectrum technologies at higher-frequency bands going to be used in order to increase network capacity and allow for multi-gigabit speeds across the 28GHz, 39GHz and sub-6GHz spectrum bands. Apart from these, multi-gigabit speeds  are also expected to be allowed across MIMO, beam-forming and beam-tracking technologies.
In 2018, trials in Japan are to start with NTT DoCoMo utilizing the mid-band 4.5GHz spectrum in addition to 28GHz using 3GPP Release 15 standards on Massive MIMO, adaptive self-contained Time-Division Duplex (TDD) and beam forming, along with scalable OFDM-based waveforms for wider bandwidths, a low-latency slot structure design, advanced coding and modulation.
In United Kingdom (UK), Vodafone is going to utilize Massive MIMO, adaptive self-contained TDD, beam forming, waveforms for wider bandwidths, scalable Orthogonal Frequency-Division Multiplexing (OFDM)-based waveforms, a new framework design and advanced coding and modulation.
In USA, Qualcomm is aiding Verizon, Samsung, Cisco, Intel, Ericsson, Nokia and LG in its bid to roll out 11 pre-commercial 5G trial networks.
What would you like to do with 5G Internet speed? What are your thoughts about 5G Internet network? Share with us in the comment box.
To discuss 5G Internet and other technological advancements, join our LinkedIn page.